Get In Touch.  Our expert sales team are always on hand to discuss your project
Available in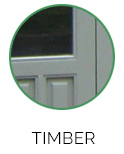 Timber Stable Doors
A stable door is one that is split horizontally across the middle and was popularised in 17th century Netherlands.
Brilliant for any rear or side door, although often found in more rural properties, cottages and farmhouses, our stable doors make for a great addition to any property.
With the ability to open the top and bottom independently, stable doors work brilliantly if you are just looking to add a bit of ventilation without necessarily having to open the entire door. It also acts as a great barrier to stop children and animals escaping.
Although traditionally designed as solid panelled doors, you can use any of our base designs when building your stable door, allowing you to perhaps opt for some glass in the upper half, allowing for some much needed sunlight to flood in.
With the same attention to detail as you would expect from our products, and with access to a rich selection of furniture options, a stable door is ideal for those who wish to get a bit extra from their door.
QUALITY
We use only proven top quality materials and hardware.
ENERGY EFFICIENT
To reduce heating costs and to improve comfort levels.
SECURITY
Our products feature the most advanced locking mechanisms.
BESPOKE DESIGN
Everything is designed to suit the type and style of a property.