Why do people prefer timber windows in Leamington Spa?
Being one of Britain's beautiful spa towns Leamington Spa boasts more than its fair share of fabulous period properties.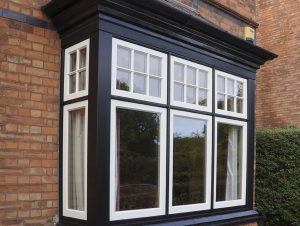 These fantastically preserved properties are part and parcel of the town's attraction.
To stay true to the appearance and character of period properties owners are known for their dedication to choosing the right materials when making repairs or upgrading a property, including the use of timber windows.
Choose timber windows to protect the heritage of Leamington Spa
The answer to 'Why do people prefer timber windows in Leamington Spa?' is simple – because timber windows are the best choice for a period property.
Properties dating back to anytime before the mid-20th century will have been built with timber windows, which makes replacing them with like-for-like materials is the best way to preserve the character of the property – whether it is commercial or residential.
Regency townhouses, Georgian manors and Victorian semi-detached houses make up the street scene of Leamington Spa, and all will have been originally designed and built featuring timber windows.
Timber windows remain an excellent choice 100s of year later offering:
Excellent insulation
Meet planning requirements
Improved glass quality
Protect character of period properties
Long lasting
Can be colour matched to the property exterior
Enhance the value of homes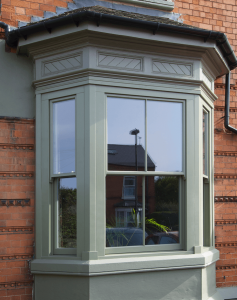 With time taking its toll on the fabric of these historic homes there will no doubt come a time when the exterior needs upgrading or renovating. Timber windows are the obvious choice and preferred option as it will help to preserve the character of the property.
With older windows, homeowners may find that noise or drafts have become an issue in which case upgrading the windows in a period property may be the solution.
As many homes in Leamington Spa are Grade II listed timber windows could even be necessary under planning permission – they would certainly be the number one choice for heritage protection organisations!
Improved insulation
While maintaining the integrity of timber windows, homeowners can enjoy the advances in glass technology that help to trap in warmth and shut out noise through krypton gas-filled double glazing.
But timber framed windows are not just for period properties, they look fantastic in any home and offer excellent levels of insulation.
As a natural insulator wood will help to stop heat escaping on cold days while shutting out the cold.
Longevity
The staying power of wood is another reason why people prefer timber windows in Leamington Spa as it represents an investment that will last.
Well cared for timber windows can last for decades making them cost-effective in the long-run as well as sustainable.
In a town that is remarkable for its rich and varied architecture windows that are in keeping – but that adapt to the many different shapes and sizes – will always be the number one choice.
For more information on replacing or installing timber windows in Leamington Spa get in touch.
---
Timber Windows of Leamington Spa
4 Park St, Leamington Spa CV32 4QN
01926 278800
https://timberwindowsleamington.com